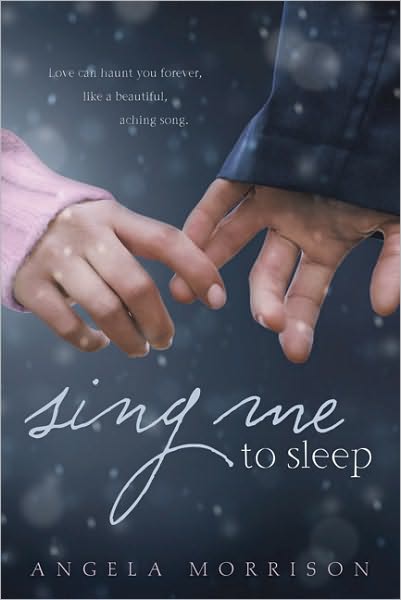 Sing Me To Sleep by Angela Morrison
Rating: 4.75 of 5 stars
Beth has always been "The Beast" - that's what everyone at school calls her because of her awkward height, facial scars, and thick glasses. Beth's only friend is geeky, golden-haired Scott. That is, until she's selected to be her choir's soprano soloist, and receives the makeover that will change her life forever. When Beth's choir travels to Switzerland, she meets Derek: pale, brooding, totally dreamy and fell in love instantly. However there is something Derek is hiding from her, something that could shatter everything.
-----------------------------------------------------------------------
Okay, I'm getting teary again just by remembering the things I so love about this book. When I started this I never really thought I would be getting seriously emotional, just until the last part, the impact was really hard you wouldn't be able to help it. Even after I read it, Oh my god, I just can't stop crying.
Beth has a really strong personality. She knows what the people in school calls her, she gets hurt and offended but she doesn't let it affect her massively. Instead she thrives with what she's good at, singing. I love how her character developed through out the story, how she gained confidence, how she has come to accept that she can be loved and she can also love someone. And how to let go and move on.
Derek is the kind of character you would instantly fell in love with. He's thoughtful, real and genuine. Everything about him is just so likable. When he and Beth met I was soo into them already. I love them, I love how they love each other, how they are so sweet together, how they care for each other, even how they make out which they do so steamingly hot. LOL. It wasn't even awkward when the issue of sex is brought up.
The last part was heartwarming, moving, touching, and totally heart breaking. Especially the part where Derek asked her to sing him the "Beth's Song" - to sing him to sleep, and at that instant my heart went crashing down. And then I was crying, really crying. I was suddenly so sad because if you get back to the earlier parts you wouldn't see it happening. You would see a total different Derek, a perfect Derek. And the perfect Derek was the once crafted on my mind. And well, I guess will always be the one crafted on my mind.
Everything from that part was just so emotional that it felt so real even though I was just reading it. It felt like I know them all, that I actually bonded with those characters. The emotional impact was just so strong. It hurts. There are only few books that had affected me like this. I only have 2 books on my 'i-cried-over' shelf. And now this one's added. I rarely let myself cry over a book but, Gahd, this one is just...you just wouldn't be able to help it. After reading, I just lay there on my bed looking at the ceiling, working on the 'what ifs' that made me cry even more. No books had ever made me cry this much.
This book is just wonderful. The kind where you'd find yourself fully involved, like you see, feel, taste everything. That in the end you'd find yourself learning lessons and having realization. :))